Russell Williams
Account Administrator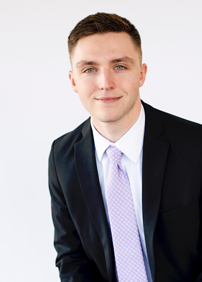 Russell Williams joined McInnes Group as an Account Administrator in 2020. Russell's experience in social media marketing and customer service brings an exciting and innovative approach to the benefit management team.
Russell oversees administration of accounts in the small group department and strives to provide fast, accurate, and knowledgeable service. Russell's unparalleled commitment to excellence was recognized by Benedictine College where he was a four-time recipient of the Student Athlete Award for excellence in the classroom.
Originally from Lake of the Ozarks, Missouri, Russell now resides in Overland Park, Kansas, where he enjoys spending time with family and friends. In 2020, he earned his bachelor's degree in Marketing and Management with a minor in Entrepreneurship from Benedictine College. After four years as a student athlete playing Free Safety for the Benedictine Ravens, Russell is an avid sports fan who enjoys watching and participating in many different sports. As a St. Louis Cardinals and San Francisco 49ers fan, his McInnes Group family is working hard to convert him to the Chiefs and Royals.